Description
The range of safety barriers from Cosmic Truss are available in various designs, all of which interlock together easily and quickly. All barriers within the range are made from high grade aluminum keeping units lightweight, while ensuring their strength and durability.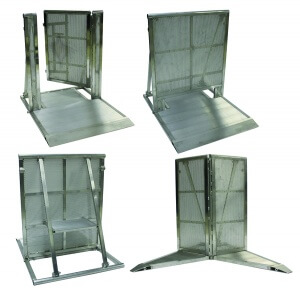 Straight Barrier
The straight barrier is the most common unit in the range and forms the backbone of the most configurations. An access step from the inside of each barrier is built into the design of the unit.
Gated Barrier
The Gated Barrier measures the same size as the standard barrier. But incorporates a locking gate section allowing easy access for personnel. Once closed, the gate is secured in two positions ensuring it remains firmly in its place.
Access Void Barrier
The Access Void Barrier shares the same overall dimensions as the standard straight barrier. But this unit incorporates a pass through hole at the bottom, allowing you to run items such as power distribution cables, water hoses and other supply systems. This allows the standard barrier to continue uninterrupted as a single element, without the need for "work around" designs.
Contact us for more on the Barrier range by Cosmic Truss
Why Cosmic Truss
For more than a decade Cosmic Truss has produced high quality and reliable aluminum products. All of which are all certified by various independent testing institutes.
The deep product range from Cosmic Truss has been systematically expanded over the years. And now includes a lot more besides regular truss; crowd barriers, clamps, hooks, accessories, complex staging as well as heavy duty truss systems are now all a part of the inventory.
When it comes to innovation, our R&D department sets new standards and is able to pick up and realize ideas from our customers promptly. Cosmic Truss products are being sold in more than 50 countries worldwide and our customers appreciate the excellent quality and availability.
Quality, reliability, innovation and availability are the key words which we implement globally into our ruling principles. Always and at all times. For this reason, Cosmic Truss products are tested by TÜV Nord. Not only fulfilling the norm values but in fact outperform them.
Since 2001 we have expanded our truss systems piece by piece. We started with 3 systems and now we offer more than 10 different truss systems, this puts us in a leading position of truss manufacturers.